I need some advice. I spent my entire life savings to have a beautiful porcelain veneers smile makeover. When the temporaries were ready, I really liked them. However, when the permanent ones came in they looked different. the surface was dull and without texture and the color was noticeably darker. I told him I wanted them like the temporaries and he said the dullness would go away after he bonded them on. I asked why the temporaries had the right color but not these and he said that's how labs do them and they'll brighten up. They didn't. Now I'm stuck with this because my dentist said it will damage my teeth to re-do them once they're bonded on. What do I do?
Annabelle
Dear Annabelle,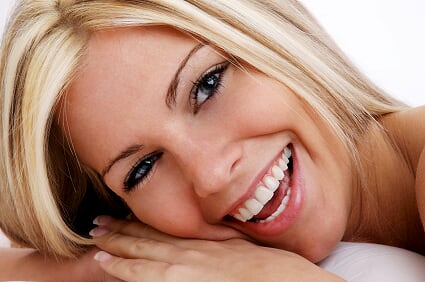 You deserve better than this. First, we'll start with the fact that porcelain veneers can definitely be redone, despite what your dentist told you. Doing so will not damage your teeth in the least. Dentists with less integrity will say that to get the patient to shut up and accept the smile they were given.
The fact that your final veneers were not your agreed up look and color puts you in a good position to get a refund. Depending on the skill of your dentist, you might not have to resort to that.
The first thing I want you to do is look at the smile gallery on his website. If he doesn't have one, that's a warning sign. Anyone serious about cosmetic dentistry will have a smile gallery showing before and after pictures of the work they've done.
For now, let's go on the assumption he does. In that case, I want you to look closely at his work. Does he create gorgeous smiles? Would you be proud to wear them? If not, then doubt his ability to make your smile any better even if he agrees to re-do it. In that case, you'd be better served just getting a refund and going to a more talented cosmetic dentist to start over.
Guaranteed Gorgeous Cosmetic Dentistry
When you look for the next cosmetic dentist to help you. You want one who will stand behind their work and not be satisfied unless you are. That means even when the porcelain veneers are completed, they put them in with a temporary try-in paste.
If you're not absolutely thrilled, they go back to the lab to make any necessary changes.
Where Do You Go From Here?
If you think your dentist is capable of creating a beautiful smile for you according to the specifications you want, then ask him to re-do the veneers free of charge. If he says that's not possible, show him this blog post.
If you don't think your dentist can do the job correctly or if he refuses to re-do the work, go to an expert cosmetic dentist and see if they'd be willing to help you get a refund so you can see a dentist who can.
This blog is brought to you by San Antonio Dentist Dr. Imam.