I'm going to be getting a smile makeover and am trying to decide between brands. I can't decide if I should get Lumineers or the regular porcelain veneers. I hear with the regular ones you have to get your teeth shaved down. I'm not sure I like that idea. But, Lumineers have mixed reviews. Do you have a recommendation?
Kaleigh H.
Dear Kaleigh,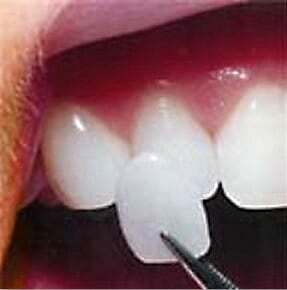 Congrats on the fact that you're getting a new smile. It's an exciting time filled with possibilities. You will love the confidence it brings. While it is great that you're doing research, you are asking the wrong question. While brands of porcelain veneers have different qualities, the biggest difference comes from the skill and artistry of the dentist.
A Tale of Two Dentists
You could have two dentists work on the same smile using the same material and they will end up with completely different results. One may create a stunning smile. The other, an average one… or worse.
There are way too many cosmetic dentistry horror stories. We've had quite a few people come to our office hoping we could fix the damage done by their cosmetic dentist. You don't want to invest money in a smile makeover you end up disappointed in. Cosmetic Dentistry is an art form and requires an artist to bring you beautiful results.
Finding a Great Cosmetic Dentist
When it comes to getting a stunning smile, you want to make sure you find the right dentist. Be sure to check out their smile gallery. This is usually a page on their website which shows examples of cases they've done. Always ask if it is their actual work or if they are showing stock photos instead.
If you like their work, then you can check their reviews to see what type of experiences other patinets have had with them. Additionally, you want to make sure they are willing to stand behind their work with some form of a beautiful smile guarantee.
You'll find the best dentists are accredited by the American Academy of Cosmetic Dentistry, as Dr. Weiss is. AACD Accredited Dentists are in the top 1% of cosmetic dentists in the country.
This blog is brought to you by San Antonio Cosmetic Dentist Dr. Imam.