I have severely discolored teeth and several of them are crooked. I'm looking for a recommendations.
Dan
Dear Dan,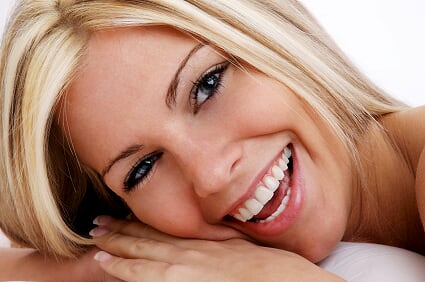 When it comes to cosmetic dentistry, you have two paths you can go with this.
Cosmetic Dentistry Path One: Invisalign and Teeth Whitening
Teeth whitening is a simple procedure which just about any dentist can do. Invisalign requires a dentist who has the equipment. It's sometimes called clear braces. They aren't your traditional type of braces with metal wires and brackets. Instead, they use clear aligners that are milled in conjunction with a sophisticated software program.
You wear the aligners for two weeks, while they gently move your teeth into the next position. Then, you'll switch to the next pair. A benefit of the aligners is your teeth can double as teeth whitening trays. This allows you to whiten and straighten your teeth at the same time.
Cosmetic Dentistry Path Two: Porcelain Veneers
Porcelain veneers are tiny wafers of porcelain which can change the shape, size, and color of your teeth simultaneously. While they won't straighten your teeth, like Invisalign, they will make them look straight. This is an advanced skill which requires advanced training in cosmetic dentistry. These skills aren't taught in dental school. and a dentist who is interested in these skills needs to invest time in post-doctoral training.
However, it requires more than technical knowledge. It requires an artistic eye. So how are you to know whether or not your cosmetic dentist has what it takes? One thing I'd do is look at their smile gallery, which gives before and after images of work the dentist completed. This will give you an idea of what type of results he or she gets.
If you aren't thrilled with what you see, look for a different dentist. However, if you do like the results, the next step will be to check their reviews. You will want to make sure they're the type of dentist who is good with patients and listens to their goals for their smile.
This blog is brought to you by San Antonio Cosmetic Dentist Dr. Imam. Ask about our digital smile design.