I had to get a dental crown placed on a visible tooth. My dentist said he'd be able to match my other teeth, but couldn't. He said my teeth are overly white. According to him, I whiten my teeth too much which made them an unnatural color, too white for traditional dental work. I've never heard of this before. Is it possible to whiten the crown like I do my teeth? I like the color of my teeth, but the crown looks a bit dingy, like somehow I always miss that tooth when I brush.
Karen
Dear Karen,
What you are facing is the difference between a typical general dentist and a general dentist who does a lot of cosmetic work. It also brings up an interesting bit of dental history here. Dentists use a shade guide to help them with the base shade for any type of dental work they need to do, such as a dental crown. Below is an image of what that shade guide would look like.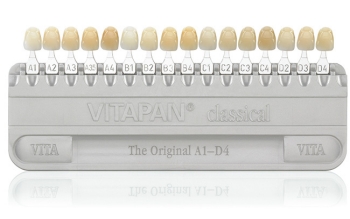 This worked fine for many years. Then, teeth whitening caught on as an inexpensive way to improve your smile. Suddenly, dentists were faced with patients whose teeth were whiter than the shade guide. This is because teeth whitening doesn't just remove stains. It will also whiten the natural pigment of your teeth.
As whitening grew in popularity, the companies that put out shade guides had to adjust as well. Most dentists now go by the updated shade guide, seen below. Apparently, your dentist hasn't caught on yet.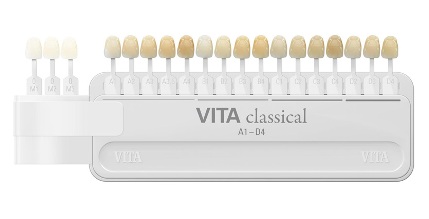 These extended shades options it made it easier for dentists to match the needed dental work to the teeth of patients who preferred whiter teeth.
Unfortunately, teeth whitening will only work on your natural tooth structure. The dental crown will stay the same color it was when it was bonded. The only way to get a whiter dental crown is to replace it with a crown that better matches your natural teeth.
I think your dentist should replace this crown for you. Your dentist told you he'd be able to match your teeth. He is able to, he just didn't know what resources were available to follow through on his promise.
This blog is brought to you by San Antonio Cosmetic Dentist Dr. Imam.